INSIDER THREAT PROGRAM (ITP) EVALUATION
A Comprehensive Insider Threat Program Evaluation Tool Focused On Addressing the Risk of Insiders Affecting the Value of Assets by Developing Prioritizing Recommendations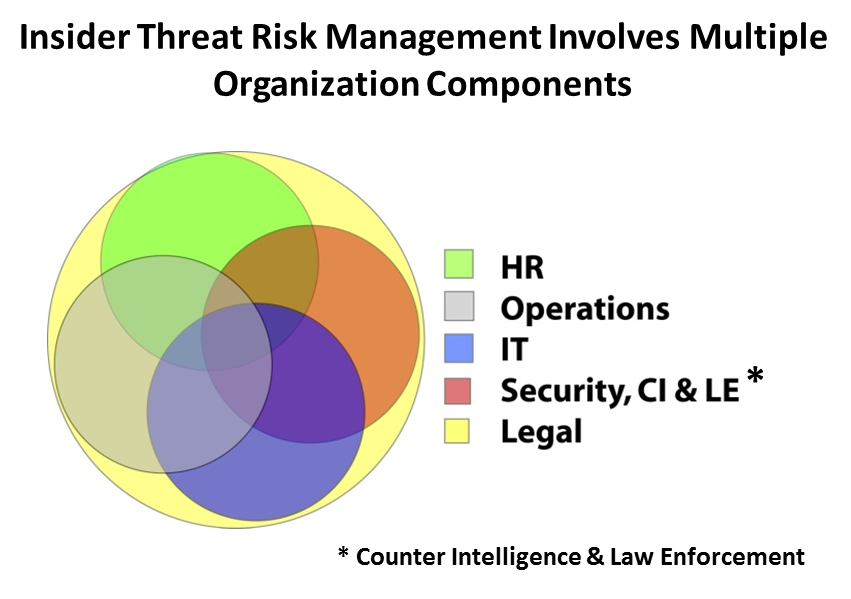 Macro Level Overview of ITP Evaluation Tool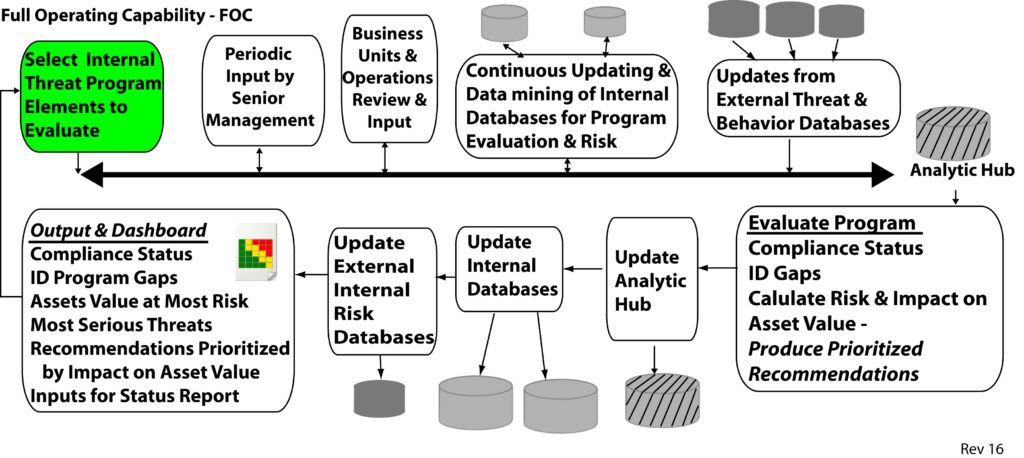 BENEFITS
Quantifies the value of an Effective Insider Threat Program.
Provides Justification for Creating or Improving One.
Provides a Means to Evaluate an Existing Program Against Standards, Best Practices & Guidance.
Improves the Organization's Overall Security Culture
Increases Reporting of Behavior of Concern or Persons at Risk by Colleagues Because of the Benefits from Referrals to the EAP or Management for Help.
Improves Effectiveness of an Organization's Existing Insider Threat Program by Guiding the Collection, Integration and Analysis of Vital Personnel and Behavioral Information.
Improves Prevention, Deterrence and Mitigation of Non-Malicious Potentially Harmful Insider Behavior & Events by Earlier Intervention Due to Better Data and Analysis
Enables Earlier Detection of Malicious Potential or Actual Beaches, Fraud, Theft, Sabotage or Espionage with Improved Behavior Monitoring and Assessment and Access Control.
Provides Targeted Training, Awareness & Education to Organization & Vendor Staff.
Reduce the Risk & Liability of Preventable Loss of Asset Value by Insider Action.
Increases the ROI on Security Investment.
REDUCES RISK
Better Prevention, Deterrence, Detection, Mitigation, Response & Recovery Due to:
Better Policies;
Better Staff Understanding of What Is Most Valuable & Important to Protect;
Better Agreement on Regulations that Must Be Enforced & Those with Flexibility;
Clear Agreement on What Behavior Can Not Be Allowed & Must Be Addressed;
More Effective Incident Mitigation Response Plans, Especially Regarding Personnel;
Improved & Coordinated Training in Security Awareness & Cyber Security Skills;
Improved Monitoring & Intervention of Non-Malicious Insiders Under Stress or at Risk including Better Understanding of Pandemic's Impact on Staff;
Improved Work Force Morale and Retention Through an Employee Assistance Plan;
Earlier Identification of Toxic or Hostile Employees to Improve the Working Environment By Appropriate Management Intervention, Counseling or Termination.
COST SAVINGS TO INDUSTRY
Reduced Cost of Cyber Insurance.
Reduced Cost of Loss Insurance.
Reduced Expenses Due to Improved & Better Integrated Insider Threat Auditing Technology (e.g. Removal, Replacement, Reconfiguration & or Redeployment).
Reduced Audit Committee Expenses Due to Improved Insider Threat Monitoring.
Reduced Expenses Due to More Effective Holistic Breach Mitigation Processes with Heavy Emphasis on HR Assets.
Reduced Expenses Due to Fewer Breaches from Insider Mistakes Due to Better Training, Awareness, Education & More User Friendly Processes Reducing Security Work-Arounds.
Reduction in Loss from Insider Sabotage
Improved Win Rate on US Government Defense & IC Contracts from a Compliant Insider Threat Program
Sentinel ITP LLC is our company working to commercialize this ITP evaluation tool